News Archive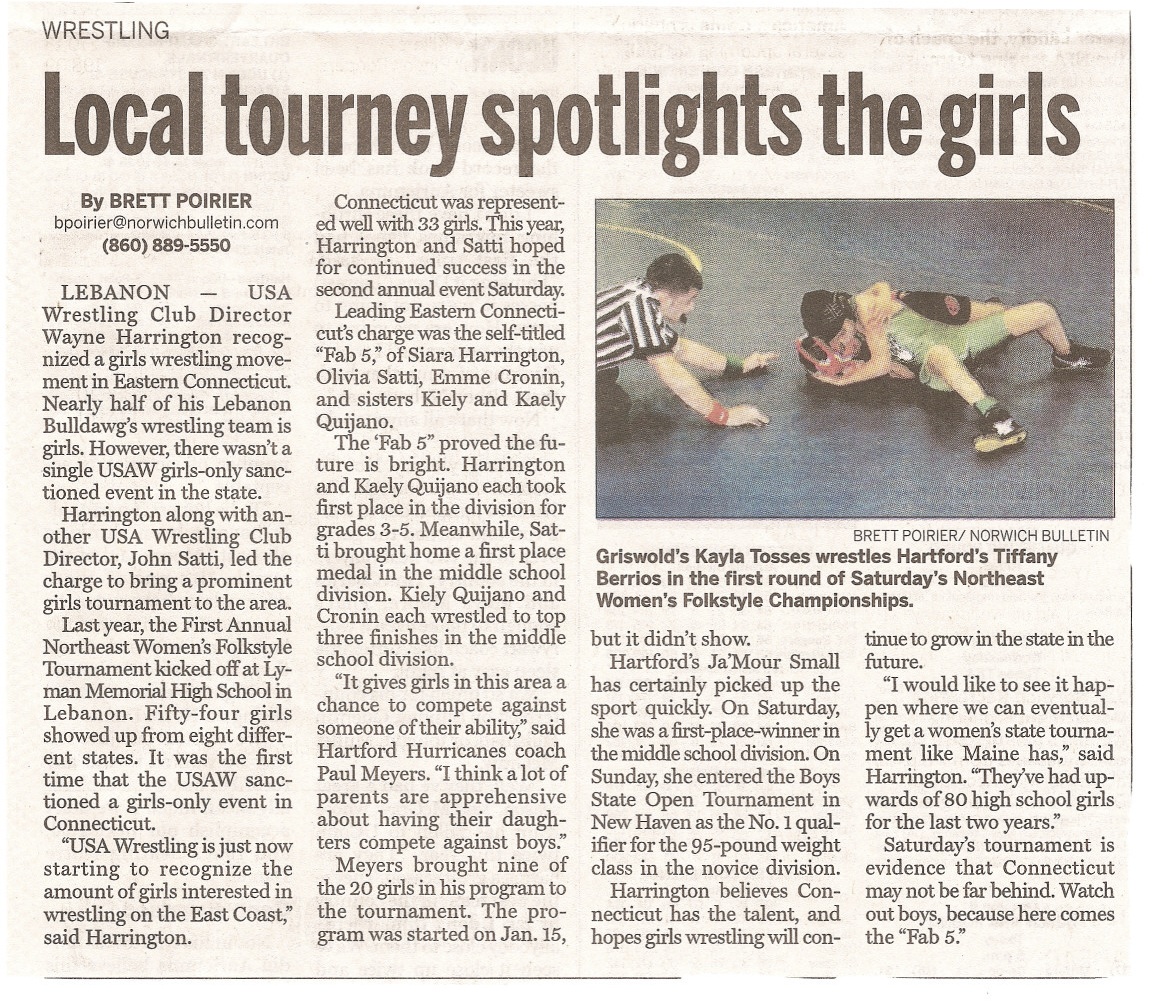 Nutmeg Placers
Elementary placers
From left to right First Place Ryan Luth, Milford, Hayden Brown, Blue Hawks, Sam Little, Smitty's Barn, Logan Smith, Waterford.
From left to right first Place Joe Rossetti,Northeast Elite, Brendan Weir, Northeast Elite, Jake Cevero, Team tugman, Nicholas Glover, Northeast Elite.
---
Congratulations Dom Malone for placing 5th in the USA Cadet Freestyle Championships in Fargo North Dakota!
Congratulations Walker Dempsey
Schoolboy Freestyle All-American 5th Place!
---
Hi Coaches and USAWCT Coaches, Parents, and Friends of CT Wrestling,
Please see the attached flyer (PDF) and come and participate in the Team CT Training Week.
Team CT will be preparing for the Jr. Nationals in Freestyle Wrestling to be held in Fargo, ND July 18-25. At Wesleyan University, we will be hosting wrestling practices and training in preparation for this phenomenal tournament. ALL ARE WELCOME TO COME AND TRAIN and help make yourself and your fellow CT wrestlers better.
July 12 (Sunday) 11am-4pm, and then July 13-16 (Monday-Thursday) 6pm-8:30pm. There will be alot of wrestling, drilling, and competition to make yourself and Team CT better. Come and join us. It is free, with the exception of needing a USA Wrestling Card ($35.00).
I look forward to working together and getting in some quality mat-time!
Preparation, Attitude, Teamwork,
Coach Drew Black

(updated 4/06) National Hall of Fame CT Chapter Website
(updated 3/18) Northeast Women's Folkstyle Wrestling Championship Recap
Team CT McDonogh Duels
Drew Mahoney - NE Elite Kevin Jack - Danbury Lucas Muntz - Newington/NE Elite
Alex Starr - Colchester/NE Elite JP Andiarena - Silverbacks Brendan Zotti - Newington/NE Elite
Chris Elrod - Colchester/NE Elite Will Chowanec - NE Elite Geoff Verallis - NE Elite
Jamie Quirk - Silverbacks Walker Dempsey - Stamford Worriors Chris Chorzepa - Newington/NE Elite
Shane Jennings - Danbury Nick Poulin - Silverbacks Kyle Foster - Somers/NE Elite
Spencer Hill - Silverbacks Wolfgang Fiasconara - Silverbacks
Max Odell Kids National Freestyle CHAMPION
This summer Max traveled to Orem, Utah to compete in the 75lbs Midget Division where he represented Connecticut to become a Freestyle National Champion. Max's picture appears in the December issue of USA Wrestler magazine. Great Job Max!!!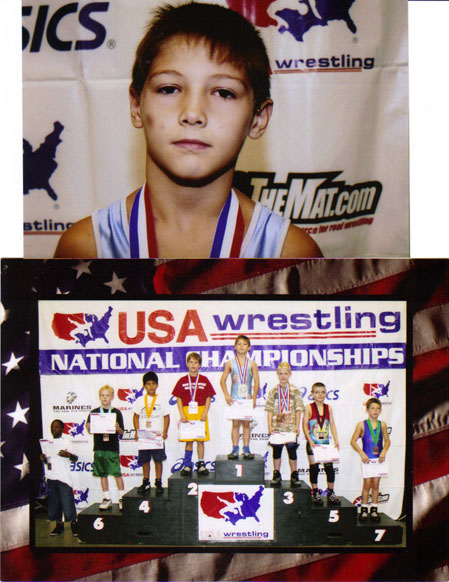 (updated 1/04) Team CT Information

Team CT did well in the first event of three this year, taking 9th in a field of 16 at the Tyrant Duals in Wilmington Delaware. After wrestling the NJ Stars, who finished 2nd overall, Team CT took on another team from NJ, Phoenix, who finished 5th overall. (This is known as a 'tough pool!' ) Team CT wrestled some of the best wrestlers in the East 'dog tough', to quote the NJ Stars coach. After beating Tyrant Grey to secure third place in our pool, Team CT took on the other third place teams, defeating Tyrant Blue
and the Warhawks soundly to end the day at 3-2 and in 9th place, out of 16 teams.

Team CT was led by Chris Elrod at 75 pounds, (5-0, 20 net team points),
Walker Dempsey at 100 pounds (3-1, 19 net team pts.) Lucas Muntz at 140
(4-1, 18 net team pts), Drew Mahoney at 95 pounds, (4-1, 13 net team pts),
Alex Starr at 60 pounds ( 4-1, 12 net team pts) and Christian Zotti at 80
pounds (2-2, 12 net team points).
Other Team CT wrestlers included Joe Rossetti at 65, (3-2, +2), Brendan
Zotti at 70 (2-2, +9), Will Chowanec at 85 (2-2, +9), Geoff Verallis at 90
(2-3, +9), Chris Chorzepa at 112 (1-3, -6), Nick Stefanotos at 90 (0-2,
-9), Jacob Quirk at 105 (1-2, +5), Devyn Petsa at 120 (0-4, -17), Miguel
Calixto at 130 (2-3, -1), Nick Poulin at 152 (1-3, -6) and Wolfgang
Fiasconara at HWT (1-1, -6). (Forfeits are not included in records, but
are included in team points)

The next team CT event is in Owings Mills, Maryland, the McDonough Duals,
on Saturday, Jan 31st. . You can see the level of competition at their
website,http://www.mcdonoghduals.com/index.htm. Wrestle offs for McDonough
are Friday Jan 23 (6pm) at NE Elite, and you must signup or let Coach
Powers know you intend to wrestle off by Saturday, Jan 17th.

Northeast Elite Wrestling Club offers memberships for its USAWCT Grappling Club (PDF)
(updated 9/21) 2004 Fargo Results
(updated 3/25) Donation Drive Tops $4,000
(updated 3/18) Thank you from the Poulin Family
(updated 2/18) Wrestler Files Suit over Cutting Weight
(updated 11/01) New Team USA CT Yearbook
(updated 01/17) Six (6) CT individuals to be inducted into National Wrestling Hall of Fame
(updated 02/17) Pictures from the Milford Novice Tourney
(updated 02/18) A Reunion For Friends, Rivals
(updated 01/17) Important title IX Information
(updated 12/11) Title IX Update
(updated 12/04) Tournament Guidelines and Information
(updated 9/16) USOC President Supports Keeping Both Styles in Olympic Games
(updated 2/18) Iowa Central Wins National Championships
(updated 3/16) Sacred Heart Crowns Two Champions at CAA Championships
(updated 1/8) New Wrestling Movie, "Reversal"
(updated 9/23/2002) Results from Greco-Roman World Championships
(updated 8/26/2002) US won't go to World Championships